Hi! Dear users, If you are facing trouble converting the OST2PST format then, in this article we are discussing the Easy tricks to convert OST to PST online.
Both PST (Personal Storage Table) and OST (Offline Storage Table) are the MS Outlook data files. The key difference between OST and PST file is that the OST files are for offline use while the PST files contain the mailbox information and can be opened only in Outlook. In this circumstance most of the users want to convert OST to PST file easily.
Why Convert OST to PST File Format
If you need to save a few mailbox items, you can easily convert OST to PST files because the PST file formats are easy to backup mailbox data.

Suppose in any case your Exchange Server account gets deleted or corrupted and you lost your information then you can easily recover it through converting OST to PST.

If you can easily complete OST to PST file conversion, then, you can save simply  the PST files in a safe location
These are some possible reasons to export OST to PST Online. Now, here we know some manual techniques as well as automated techniques to convert OST to PST file Format.
Manual Methods to Convert OST to PST Online
#Method 1: Export/Import Tool
In this method, you can Convert OST to PST. You can save your data into Excel and CSV file format.
Firstly, Open MS Outlook with credentials on your computer.

Next, hit on the "File" Tab in the menu bar.

Open the "Import & Export" option.
Then hit on "Export to a file".

Click on the "Next" option button.
After that, choose Personal File Folder (.pst).

Now, click on the "Next" option button.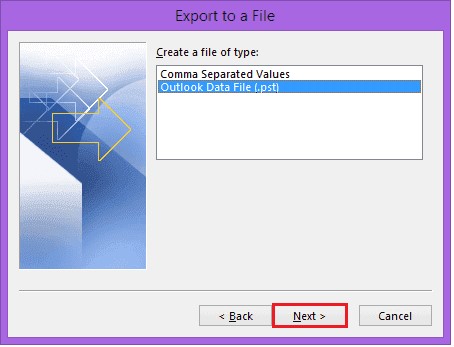 Hit on the parent root, and after that check the "Include subfolders" option.

Next, browse and pick the target folder.

Click the "Finish" Option button.
#Method 2:  Use 'Archiving' Method to convert OST to PST Online
First of all , open Microsoft Outlook on your PC.

Click on the "File" tab and pick  'Archive'.

Then, pick the file/folder that you want to archive.

Choose the location to store the file into Outlook PST format.

At last click on the "Finish" button.
# Method 3: Drag and Drop Techniques
In this technique, you have to create a new PST file. After that you just drag and drop your folders and save them. It is used to transfer OST mailbox items into a new PST file format.
First of all, open Outlook on your system Or computer.

Next create a new PST file in MS Outlook profile.

Then just Pick and drag all the mailbox folders which you want to transfer into the PST format that you have already created.
So these are three manual techniques to convert OST to PST format. However there are some limitations of using these manual methods.
Limitations/Drawbacks of Manual Methods
In manuals there is a possibility of data loss.

You can not easily convert a corrupted or damaged OST file.

It is a very time-consuming process.

It will not maintain the structure of converted data.

Only a technical expert can export OST to PST format.
These are some drawbacks of manual techniques. However , In this circumstance, We would like to suggest using a Professional Method.
Direct Methods to Convert OST to PST Online
This method comes after the manual methods due to the long process of the manual procedure create some issues. Now, we opt for the professional solution i.e, the DRS OST to PST Converter  tool that can easily convert them. This technique also helps to export OST to PST with the help of software.  This software resolves all the mistakes which are done in the manual techniques. This tool is full of attractive features which make it user-friendly.    
Conclusion
In the above, we discussed the different methods to resolve our issues. Hope This blog will help the user to convert OST to PST Online as well as in a manual or professional way. The direct method makes it easier to short out this problem while the manual techniques take more time as well as more lengthy procedures. So, with help of the OST to PST Converter, this all happens in a very easy way.